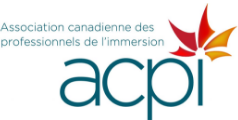 Project manager or
resource person
University career centres
Association canadienne des professionnels en immersion (ACPI)
Jobimmersion.ca recruitment portal
The jobimmersion.ca website is a must for candidates looking for a job in French Immersion. School boards trust jobimmersion.ca to recruit quality French Immersion teaching candidates.
PHASE 1:
Hired a project management consultant.
Conducted research and benchmarking on job portal trends.
Designed a job search Web portal.
Designed, wrote and developed the content and visual material required for page development.
Promoted the site to potential employers, including school boards, for job postings.
PHASE 2:
Hire a recruitment specialist.
Facilitate contact between potential candidates and employers for pre-interviews.
Liaise with Education faculties at universities across the country and university employment services to promote the portal to graduates or final-year education students.
Liaise with organizations that facilitate the immigration of teachers from outside Canada.
Continuously monitor potential candidates (education graduates, teachers interested in a new challenge, teachers outside of Canada) on job search platforms and social media.
Create specialized content about current recruitment activities, expert advice to prepare candidates for the selection process, specific tips to help school boards fill positions quickly, and more...
Create tutorials for candidates to increase their chances of being noticed by employers (boosting their résumés, creating a presentation video...)
Supply content to social networks linked to jobimmersion.ca (i.e., LinkedIn)
Post ads about jobimmersion.ca on job search engines (e.g.,Monster.ca, ApplytoEducation, Workopolis...)
Develop and maintain databases to reach school principals, school board human resources departments and identify recruitment activities in all cities with a population of 5,000+ across the country.
One hundred school boards subscribe to a package on jobimmersion.ca.
Fifteen universities are working with jobimmersion.ca.
The jobimmersion.ca website has a list of 300 candidates.
Three hundred candidates find employment as teachers in FI and FSL programs.
Increased awareness of the state of recruitment and retention of teachers in FI and FSL programs.
FI and FSL partners use jobimmersion.ca to supplement their recruitment efforts.
French Immersion programs continue to grow and contribute to the bilingual development of more Canadians.
More teachers are available to teach in FI and FSL programs in both urban and rural areas.
Lower teacher turnover in FI and FSL programs.
Main takeaways (learnings)
School boards need personalized support to help them market themselves to potential candidates.
We also need to offer personalized support to candidates to help them promote themselves and identify their career path.
Potential/desired collaborations
CASLT, ACUFC, Council of Ministers of Education, Canada (CMEC), Universities Canada
To gain access to their contacts at post-secondary institutions
To appeal to academics who influence their students, and publish articles on the jobimmersion.ca site
For promotional support (e.g., encouraging their members to use the platform).
Universities: faculties of education and career centers
To promote the jobimmersion.ca portal to students.
Teachers' colleges, Canadian Teachers' Federation (CTF) and its members (e.g. Éducateurs francophones du Manitoba)
For promotion to members.
Digital platforms and documents for consultation or sharing